Kim127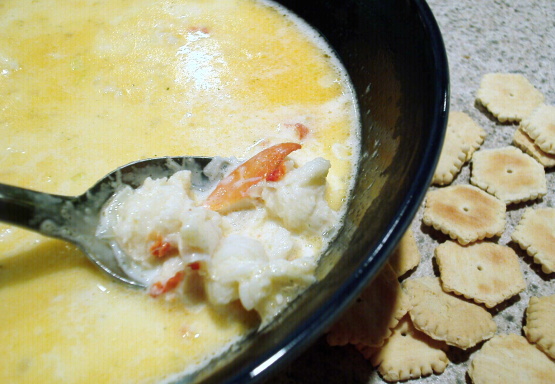 This is how I make a Lobster Stew and I haven't gotten many complaints, lol. A Maine Lobster Stew is pretty much milk/cream, butter and lobster meat. There are not supposed to be other things in there. The milky broth get its flavor from the lobster and butter alone and should turn a slight orange color. This really needs to set overnight. What I usually do is make the stew, cool, refrigerate and then in the morning I will check to see how thick it is. I may add a little extra milk at this point. This is also a pretty forgiving recipe. It all depends on the amount of cooked lobster meat you have available. I've made smaller batches and larger batches. Its really hard to mess up....unless the milk/cream curdle. Make sure to add these ingredients slowly and to not let the stew come to a boil. You really don't want all that lobster meat to taste like sour milk. You can get 2 cups of lobster meat from about 4-5 cooked lobsters. Make sure to pick out ALL the meat and not just from the claws and tail. I didn't include the amount of time to clean or cook the lobsters as it takes everyone different amount of time to do, but it will be the most time consuming part of the making of the stew. This is not a diet friendly meal. I would not suggest trying to substitute for the cream or butter.

I followed this exactly, and since being from Maryland, we have our own way of making our "Cream of Crab" I sincerely understood that is important to let this dish stand on it's own just with the ingredients in the recipe, and most especially the lobster. (Although for the photo I added some diced green onions) I got a lobster yesterday, a good price in fact, came home and steamed it. Since my DH will completely pull apart and devour a whole lobster, I let him at it to take every little part and knuckle off, and putting aside the meat I would use for the stew the next day. I used all parts, including the little legs, the claw, of course the tail, and parts around the stomach area. There was a bit of juice that I added in to the stew to bring the salt taste of the sea in as well. I did make this to two servings and the amounts change appropriately. It is thusly very important for the use of butter, and the cream, as it makes it so smooth and absolutely delicious. This really is a patient dish, and although not duely hard to put together, just let it heat slowly never, ever letting it boil. Kim a true recipe that is really, really wonderful, and such a pleasure to devour! Thanks so much! Made for *Please Review My Recipe* Fall 2008
473.18-709.77

ml cooked lobster meat, chopped

118.29

ml butter (1 stick)

59.14-78.07

ml onion, diced finely

4.92

ml Mrs. Dash seasoning mix (original blend)

396.89

g can evaporated milk

236.59

ml light cream

709.77

ml milk
In a soup pot, melt the butter over medium high heat.
Add the onions and cook until tender, about 5-7 minutes.
Add lobster meat and Mrs. Dash and cook for another 5-7 minutes. Stir occasionally.
Add the evaporated milk slowly. Next add the milk and cream slowly, stirring at the same time.
Heat the stew til almost boiling, but do not let it boil!
Take off heat and let cool.
Refrigerate over night.
Heat slowly the next day until hot but not boiling.
We like to serve ours with oyster crackers or some fresh, chewy type bread (like sourdough).