twissis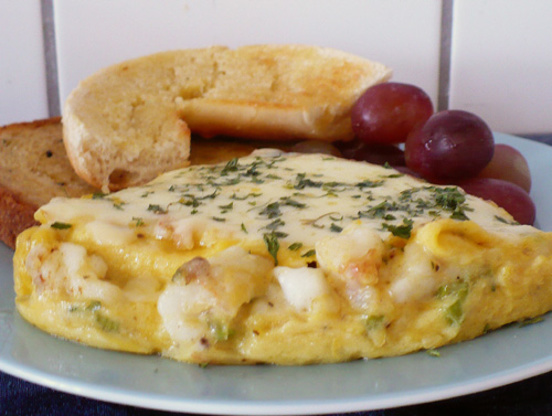 A Bayou breakfast recipe for ZWT 9 from a web site called Bayou Recipes

Made for ZWT-9 & the Goddesses. I actually made this twice, the 1st time as written & we found it rather bland w/no seasoning(s). On a 2nd effort, I added lemon pepper & Old Bay Seasoning (I favor using OBS w/lobster & shrimp dishes). We liked it much better the 2nd time. DH preferred his plain, but I added a generous amt of grated smoked Gouda. Yum! We're so lucky that lobster is reasonable here vs the cost in the US. This was served w/toasted homemade bread, bagels & fruit. Thx for sharing this recipe w/us.
Beat the eggs and cook in an omelet pan over medium heat.
While eggs are beginning to cook in another pan sauté' the onions in the butter, add celery and lobster or crabmeat to onions and simmer for 3 minutes.
Before folding the omelet, spread it with the filling mixture.
Fold and serve garnished with parsley.