Janni402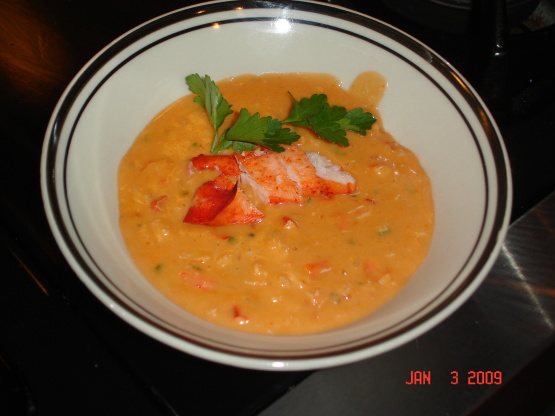 Rich and delicious seafood bisque! I use chicken broth because it's cheap and easy to find, but if you are so inclined, you could use fresh lobster stock or 3 ounces of Glace de Fruits de Mer Gold reconstituted in 4 cups of hot water.

If you're looking for an amazing full flavored crab/lobster stew, look no further. Tasted great, but the flavor was pretty overwhelming. To bring it back to more of a soup-esque style, I suggest:

Reducing amount of sherry to 1/3 cup
In addition to the cream, add a cup of regular milk (I used skim)
Add a tablespoon of tomato paste (good call Chef #1105875) for that nice pink color

Definitely a show stopper. Nice.
Saute onion and carrot in 2 tablespoons butter until soft. Set aside.
In 4 quart saucepan, melt 4 tablespoons butter and add flour, whisking constantly over medium heat until roux becomes light brown (about 5 minutes). DO NOT BURN!
Slowly add chicken broth, whisking constantly to ensure mixture stays smooth.
Add onions and carrots, cover, and simmer for 1/2 hour.
Add cream, sherry, lemon juice, Worcestershire sauce, cayenne pepper, salt, and lobster or crab and simmer an additional 5 to 10 minutes.
Garnish with fresh minced chives if desired.