Sageca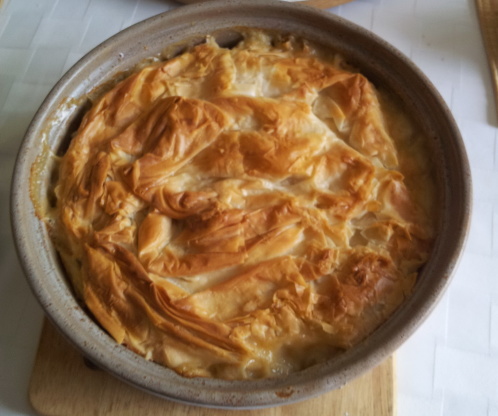 I made mine with a can of frozen lobster from Costco. This fantastic recipe is for 2, but can easily be doubled, tripled to serve to your friend and family.
Cut up lobster meat.
Cook potatoes and carrots in a bit of water in the microwave.
Drain and save the water.
In a saucepan melt butter; sweat onions and garlic; add shrimps.
Whisk in flour and cook 4 minutes.
Deglaze pan with sherry and whisk in reserve vegetable broth and chicken broth.
Stir in peas and cream.
Remove from heat and add lobster, lemon juice, cooked vegetables, chives, tarragon, Old Bay.
Add salt and pepper to taste.
Transfer filling to a dish and top with Phyllo dough one slice at a time; brush on melted butter.
Place pot pie on cookie sheet and bake at 375 for 30 minutes.
Before baking you can refrigerate it and bake it later.
Tip.: Allow Phillo dough to thaw in refrigerator overnight. Bring to room temperature before using. Fillo may be rolled and refrozen till next time you need Phillo.