J.munoz2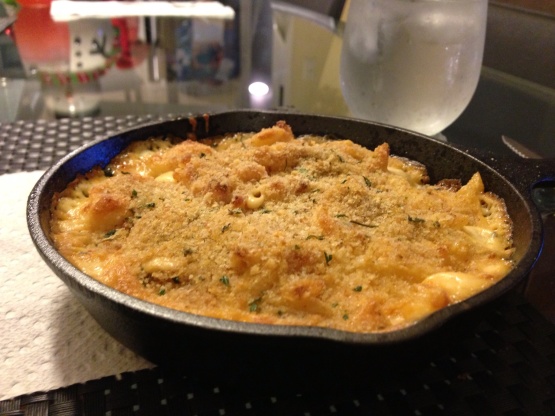 We went to Capital Grille and had the most wonderful dish ever made. This is us trying to duplicate it. I think we come pretty close.
This recipe is pretty tasty but...........<br/><br/>A little secret that I know about is that the 4 cheeses that the Capital Grille uses in their Lobster Mac and cheese recipe are as follows. White cheddar, Havarti, Parmesan and Mascarpone cheese. I do have the original recipe, but that is all that I can give away! The mascarpone is really the secret ingredient in this recipe. Your welcome!!
Bring salted water to boil and add noodles. Cook 8 - 10 minutes (do not overcook). in a double boiler, combine cheddar cheese, 4 oz. parmesan cheese, cream cheese and Gruyere cheeses. Heat until blended.
Gradually add cream, stirring until smooth.
In a large pan, heat olive oil, add shallots and garlic. Saute. Add lobster meat and cook until opaque. Remove from heat.
Drain pasta. Add to lobster mix, then add cheese sauce, salt and pepper. Mix well.
Place in casserole dish, sprinkle with remaining parmesan cheese and top with breadcrumbs.
Bake at 350°F for 6-8 minutes until breadcrumbs are golden brown.