BarbryT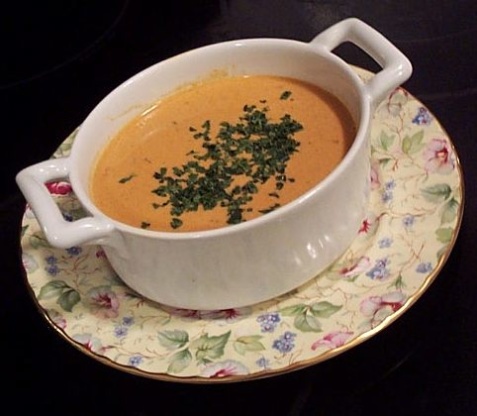 I can't remember where the original recipe came from, but I have worked on this for some time and it is so good. Simple, quick and yummy. You can substitute crawfish or shrimp for the lobster.

This is a great recipe and with a couple changes its even better. A lobster bisque is traditionally smooth and creamy. This recipe even when finely chopped is not. To change this (before adding the lobster pieces) we used a plunge blender and pureed the batch then put thru a course strainer giving a smooth creamy delicious bisque.
In a saute pan heat a little oil over med-high heat and saute shallots, onions, and garlic for one minute.
Deglaze the pan with the white wine.
Add the worcestershire, tabasco, and thyme and saute for another minute.
Deglaze the pan with the sherry.
Add the paprika, hot water and lobster base and combine well.
Stir in tomato paste and add the bay leaves.
Simmer for 10 minutes.
Whisk in heavy cream and the butter and bring to a boil.
Add the lobster and simmer until cooked through.
Serve with crusty garlic bread.