lazyme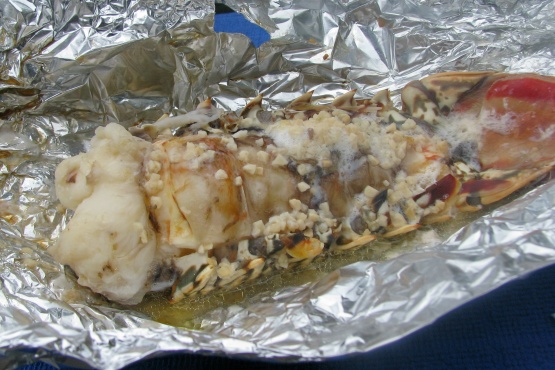 This recipe comes from my Cruising Cuisine cookbook. While cruising in the Sea of Cortez we used this simple method to prepare the local lobster and it was magnificent (and so easy)! Our lobsters were moderate sized, so if using large lobsters adjust the butter and garlic accordingly.

Where I live there has been an abundance of lobster tails and I have gotten up close and personal with this shellfish but I had not been able to find a tasty uncomplicated recipe. This is what I was looking for. I will forever use this recipe in the oven. Next time we camp I will cook it over a grill.
4

tablespoons of soft butter

2

tablespoons minced garlic

4

tablespoons white wine or 4 tablespoons water

4

sheets heavy duty aluminum foil
Heat BBQ grill.
Combine butter and garlic.
Place one lobster tail on each foil sheet.
Spread 1 tablespoon butter/garlic mixture on each lobster.
Add one tablespoon of wine or water to packet.
Fold and seal edges of foil of each packet.
Grill for 20 minutes.