Lobster and Asparagus With Lemon Butter Sauce
Peter J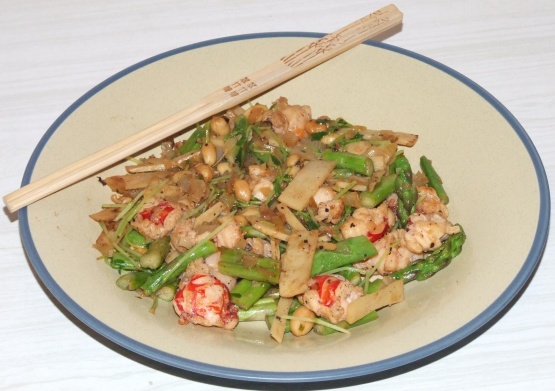 Lobster with asparagus and lemon, how luscious can you get!Serves four as a main dish and 6-8 as an appetizer.

Really enjoyed this one Fairy Nuff! I made a few alterations to the recipe but only because of what I had on hand, I used snow pea sprouts rather than pods and peanuts instead of pine nuts (not close substitutes I know!) and of course with pea sprouts didn't attempt to cook in any way before adding to the wok. You didn't make mention of the temperature for the wok / pan but a fairly gentle cooking was in order once the lobster was added and it worked well. Originally I was going to make the recipe using long asparagus cuts but in the end decided to chop a little shorter so I could eat using chopsticks. As soon as though I'd converted your recipe to chopstickable (new word?) format I also added some bamboo shoots from the first stage of cooking. All in all a top meal!
Cut the lobster tails along each side of the underside with scissors.
Pull the lobster flesh away from the shells and cut into thick slices.
Top and tail the snow peas.
Break off the woody end of the asparagus.
Boil, steam or microwave the asparagus until barely tender, add the snow peas and cook for 1 minute longer. Drain and refresh under cold water until no longer warm.
Heat the butter in a pan, add green onions, lemon rind and juice.
Add the lobster, stir fry until the lobster is just tender then add the pine nuts, asparagus and snow peas. Stir until heated through.