Loaded Scrambled Eggs for a Crowd
Marlene.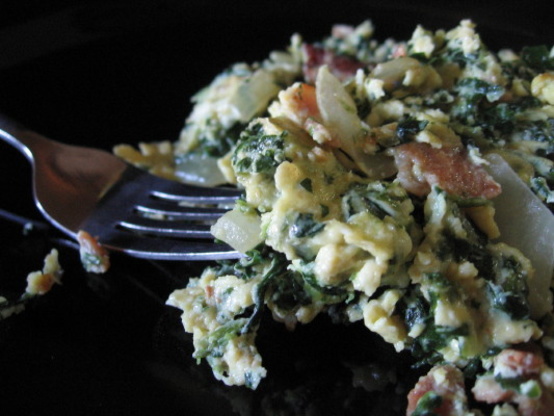 My DH loves this. I hate to cook before breakfast but sometimes I make it for him, and the rest of the crew, because I love him. The ingredients are a little variable so don't hesitate to make substitutions if you'd rather use smoked turkey instead of ham or green peppers instead of spinach. Pre-cooked meat and veggies take some of the drudgery out of cooking before you've had your second cup of coffee. ;)

Top Review by Gerry
I agree - this is an excellent recipe! I really like this, very much like one I would enjoy on our little jaunts south of the border. Always looked forward to that stop! Used bacon, spinach and mozzarella cheese. I am sure any of the choices would be equally good. Thank you 3KillerBs for a recipe that has already seen to a rerun.
Break eggs into a bowl. Add milk and beat well with a fork.
Melt butter in large skillet (I prefer a cast iron chicken fryer).
Cut onion in half lengthwise then slice the halves lengthwise into slivers. The slices hold their shape and texture better this way than when sliced crosswise. Saute in melted butter until nearly cooked and slightly browned.
Add the meat and vegetables to the pan and saute briefly with the onions until thoroughly hot.
Pour the eggs over the meat and vegetable mix. Cook on low-medium heat until about half done.
Spread half the cheese over the eggs them scramble them around.
Cook until nearly done. Add the rest of the cheese and scramble around again.
Complete the cooking, scrambling again if necessary.
Serve with your favorite bread, with homemade biscuits, with hash browns, or load into rolls or wraps.