Nimz1466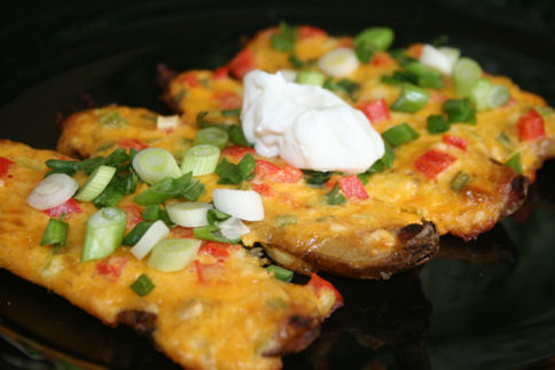 I have gotten addicted to these! Its a mix of other potato skin recipes with my own additions.

Loved, loved, loved!! I haven't had potato skins since I was young and these were wonderful :) Loved them so much!!!
Preheat oven to 475°F.
Cut potatoes in half lengthwise, scoop out flesh (discard or save for another use) leave a ¼ inch shell.
Place on a greased or lined baking sheet.
Mix together the oil, salt, pepper and paprika and brush all over the skins.
Bake in the oven for 7-8 minutes skin side up.
Turn over and bake again for 7-8 minutes.
In the meantime mix together: cheddar cheese, red pepper, and chives.
Mix together in another bowl the garlic, mustard, hot sauce, sour cream and the egg, and then combine with the mix above.
Divide this mixture into the skins, sprinkle with bacon, return to the oven and bake for about 4-5 minutes.
Very nice served with more sour cream and green onions.