Shawn C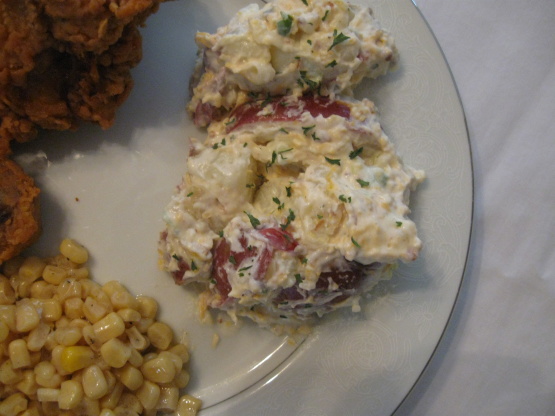 This is from my favorite southen mayo (DUKES) for those who can't get it I feel for you. because when we lived in California I couldn't get it and I actually missed my mayonaise. But you can use whatever real mayonaise is your favorite. After attempting the original recipe I adjusted it since it just wasn't right. and this is now my version of thiers. Please enjoy! This is perfect! I bought some of this (pre-made) from a local grocer's deli and HAD to find the recipe! Did a lot of scouring before I finally found this recipe and this is 100% spot-on!
boil potatoes in slightly salted water for about 20 minutes until fork tender in thickest part
in a large bowl Mix ranch with sour cream and mayo and refrigerate.
When potatoes are al dente, remove from heat and drain,.
place drained potatoes in bowl with ranch mixture and carefully turn to coat.
sprinkle bacon bits, green onion and cheese over the top and gently combine through the entire mixture.
serve slightly warm or chill for later.