Loaded Potato Cheesecake #5FIX
zarlene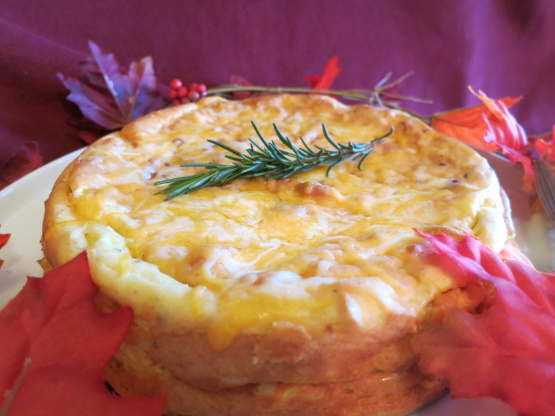 5-Ingredient Fix Contest Entry. All the flavors of a loaded baked potato in an elegant savory cheesecake. Looks beautiful and tastes delicious!

This dish had a lot of flavor! We took it to my parent's house for Easter and everyone loved it, especially the texture. I don't know that it's necessary to put it in a springform pan and call it a cheesecake, next time I'll just bake in a regular baking dish. But definitely a solid, enjoyable dish.
In a large skillet over medium heat cook bacon until crispy. Remove bacon from pan and chop into small pieces. Grease the sides and bottom of 8 inch springform pan with bacon grease.
In a large bowl, mix potatoes and cream cheese. Add egg and continue to beat until light and fluffy. (About 1 minute) Add cheese and pour mixture into prepared pan. Bake at 350 degrees for 40 minutes or until middle of cake is set. (Center will puff up).
Remove from the oven and top with remaining cheese. Cool slightly before removing from the pan.