Debber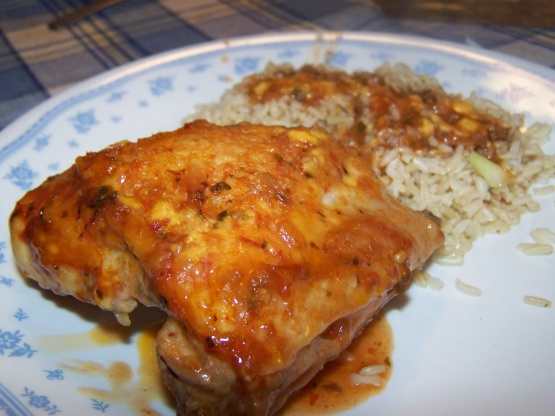 Subscribed to one of those recipe card subscriptions when we first got married--back in 1978. This recipe has been a family favorite for years now. We whip up a batch of long-grain brown rice and use the sauce from the chicken for a "gravy" (Mexican rice!). Leftovers are even BETTER than the first-runs!

No surprise that this has been a favourite in your house Debber-this is a really tasty chicken dish! I used chicken breast and browned it off with just the oil to cut back on the fat/cholesterol content. The sauce is so simple to throw together that even my DH could do it...and he REALLY doesn't 'do' cooking!! The chicken is moist and tender,the sauce wonderfully flavoursome,all complimented perfectly by the brown rice. A wonderful meal produced with the minimum of fuss and effort-a winner in my book!
In a hot pan, melt butter and oil; immediately brown chicken on all sides (about 15 minutes total).
Put rice and water into a covered large casserole pan--microwave for about 45 minutes until soft and plump--check your owner's manual. My microwave has "rice" cycle.
Preheat oven to 350°F.
Mix sauce ingredients--EXCEPT cheese.
Place chicken in a 13x9-inch pan or a casserole dish, pour sauce over the chicken, then sprinkle with cheese; cover lightly with foil.
Bake chicken for 35-40 minutes; remove foil, continue baking for 5-10 minutes.
Serve with rice and use chicken sauce for a gravy.