Loaded Deviled Baked Potatoes
twissis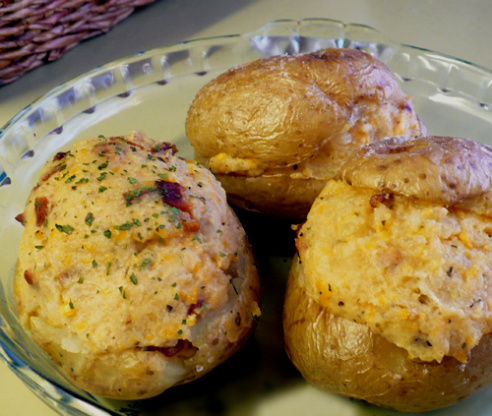 The potatoes are baked, then the flesh is removed and turned into creamy, cheesy loaded mashed potatoes. The mashed potatoes are stuffed back into the jackets, and the potatoes are baked again to crisp the skin. These are to-die-for!

Made as written for Spring PAC 2010, these twice-baked potatoes were given 5* by my TBP loving DH & our guest from Canada. The proportion of adds is spot on & I esp like the use of olive oil & sea salt b4 baking. The jackets & flesh had such a lovely flavor from their use. Thx for sharing this excellen recipe w/us. :-)
Preheat oven to 350°F, and line baking sheet with foil.
Brush the potatoes with olive oil, and sprinkle with a light covering of sea salt. Arrange the potatoes on the baking sheet; bake for one hour.
Carefully cut a "lid" in the top each potato (lengthwise) and scoop the flesh into a large mixing bowl. Set the jackets aside.
Add butter and sour cream to the mixing bowl and beat until smooth. Slowly beat in vinegar and ketchup, keeping a smooth consistency. Add remaining ingredients, and beat until well-blended.
Fill the jackets with the potato mixture, and close the lids.
Bake 15-20 minutes, until skin is crispy.