Loaded Banana Coconut Loaf
Katzen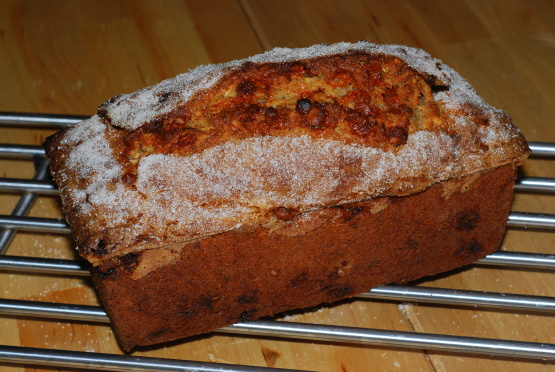 This recipe has all the addins I think you could possibly want. The coconut adds a wonderful crunch and makes this a very enjoyable bread. From the 5/9/00 publication of Family Circle magazine.

Top Review by Katzen
Lovely banana bread recipe! I really like the amount of banana in this, as well as the additions - it really is loaded! I did use cinnamon chips instead of chocolate, because I can't eat chocolate, and knew I'd want to have some of this - boy was I right when lovely waves of banana-cinnamon started to waft through the house. I also chose walnuts this time round, and sprinkled the top with some leftover cinnamon-sugar. This loaf rose beautifully high! Made for PRMR Tag.
Heat oven to 350 degrees. Coat 9x5x3 inch or similar sized loaf pan with cooking spray.
Sift flour, baking powder, cinnamon, baking soda, and salt into bowl.
In a larger bowl beat eggs, sugar, and vegetable oil. Add buttermilk, ripe bananas, and vanilla. Beat until combined. Add flour mixture in slowly and continue to combine.
Fold in coconut, nuts, and chocolate chips. Transfer to baking pan.
Bake in oven for about an hour, or until wooden pick inserted into center comes out almost clean. Let cool on rack for 10 minutes. Then, if desired, turn loaf out onto rack and let cool completely.