loof751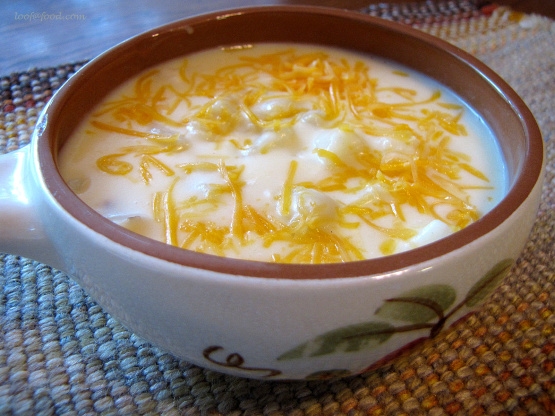 I got this recipe from my mom. It's a great cold weather comfort food. So yummy! I make this when my family is craving Panera Bread's baked potato soup. I'm not claiming that it's exactly the same, but it's close enough for us! The recipe calls for baking the potatoes, but most of the time I choose the faster way of cooking them in the microwave. I also use red potatoes most of the time as well.

Tasty potato soup! I don't care for green onions so left them off; I found after I had made the soup that I didn't have the bacon on hand that I thought I did, so had to do without. This was thicker than most potato soups I've made but still yummy - thanks for sharing the recipe! Made for Fall PAC 2012
Bake potatoes at 350 degrees for 65-75 minutes or until tender.
Cool completely.
Peel and cube potatoes. (If you're pressed for time you can also cube the uncooked potatoes and cook them in a covered dish in the microwave with 1/2 C water for approximately 15 minutes)
In a large pot, melt butter.
Stir in flour, salt and pepper until smooth.
Gradually stir in milk.
Bring to a boil, cook and stir for 2 minutes or until thickened.
Remove from heat.
Add cheese.
Stir in sour cream.
Add potatoes and green onions.
Garnish with bacon.