Loaded Baked Potato Salad
Ashley Cuoco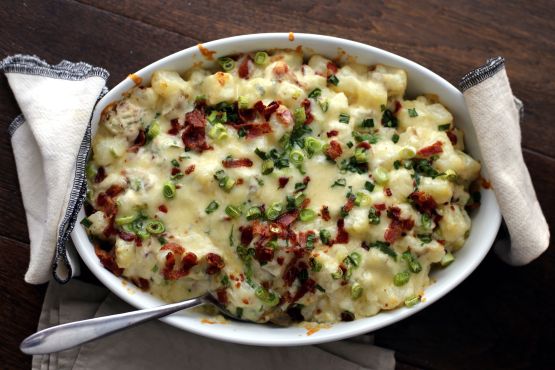 This is a dish my family and friends ask me to bring to potluck/cook-outs! NEVER any left to bring home! (my sister brings a bowl to take what MIGHT be left) Taste great hot out of the oven or "room temperature"

I wasn't real sure what to do about this one. I have the exact same recipe with one difference. So, I have decided not to post mine. Here is my difference - I don't bake mine. I mix it up and serve it cold, the ingredients are all the same. It is my husband's favorite potato salad. So either way - it works. Bake it if you have time or try it my way and just serve it cold.
Cube and boil potatoes with salt.
Drain.
Crumble bacon and slice onions (including tops).
Combine sour cream, pepper and Miracle Whip.
Add to potatoes.
Add bacon, onions and cheese (reserve some of each for top).
Mix with potatoes.
Pour into baking dish.
Top with reserved cheese, onions, and bacon.
Bake 350 for 10-15 minutes (until cheese melts).