Loaded Baked Potato Pizza
tsmith18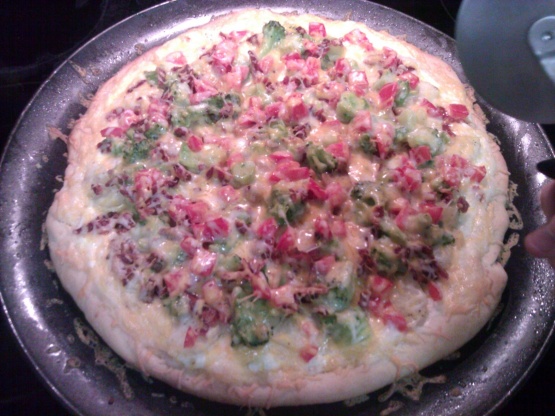 another one from the 2008 Pillsbury Bake-off.

I also found this on the Pillsbury site and decided to look it up to see if anyone had posted it. I'm glad I found it! I used a par-baked Boboli crust, added a little extra ranch dressing, used plain broccoli and subbed canned sliced new potatoes instead of microwaving a potato. It was pretty well received by the entire family and it tasted pretty similar to a loaded baked potato from Wendy's. I will definitely make this again.
Heat oven to 375º. Spray a large cookie sheet with Pam. Unroll pizza crust onto cookie sheet and roll into a 13x9 rectangle.
Bake 10-13 minutes or until light golden brown. Set aside.
Pierce potato with fork and microwave 4-5 minutes, or until tender. Cover, let stand 5 minutes. When cool enough to handle, peel and cut into 1/4" cubes.
In small bowl mix potato, oil, salt & pepper and set aside.
Cook broccoli in microwave as directed on box. Place in small bowl to cool slightly.
MIx sour cream and ranch dressing in small bowl. Spread on pizza crust to within 1" of edge. Sprinkle 1/2 cup of cheese over top. Sprinkle with bacon.
Spread broccoli and potatoes over bacon. Top with tomatoes, onions, and remanining cheese.
Bake 15-20 min or until crust is brown and cheese is melted.