Loaded Baked Potato Dip/Spread
Junebug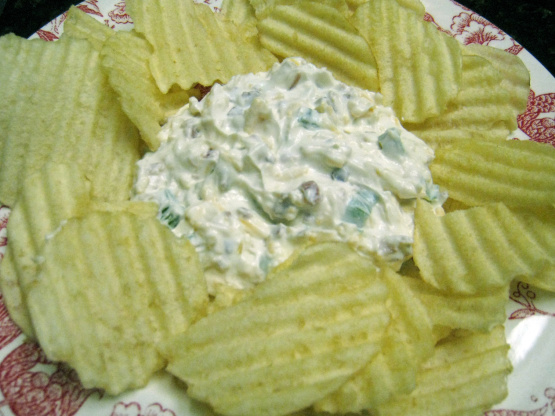 I got this from a friend at work. Great job Jenn!

After I made this dip, and my husband and I ate some of it, I thought the dip seemed to be missing something, perhaps some garlic powder, but after I read JenJenMarie's comment, I decided to add 3 tablespoons of Kraft Mayonnasie and 2 teaspoons of the dry Ranch seasoning to my remaining (1-lb. 5-oz.) of dip, and boy did this dip ever taste good, also nice and creamy. JenJenMarie had a great tip to improve the taste of the dip, and that's how I'm going to make this dip from now on. I know the recipe states to add 2 oz. of bacon bits, but I cooked up 10 strips of bacon in place of the bacon bits, plus I didn't have any green onions, so I added 2 teaspoons of diced yellow onion. If made as the recipe states, I found this to yield: (2-lbs. 2 oz.) of dip. I am giving this recipe 5 stars, but only because of the changes I made to it, but if I hadn't read JenJenMarie's tip, and changed up the recipe, I probably would of only given this recipe 3 stars, which the 3-star rating still means the recipe is good. By the way... this dip is especially good when spread on Garlic Flavored Ritz Crackers!! Thank-you Erin for posting this recipe, and thank you JenJenMarie, for the excellent recipe tip.
Mix all of the above items together and serve with crackers or whatever you want.