Loaded Au Gratin Potatoes
KPD123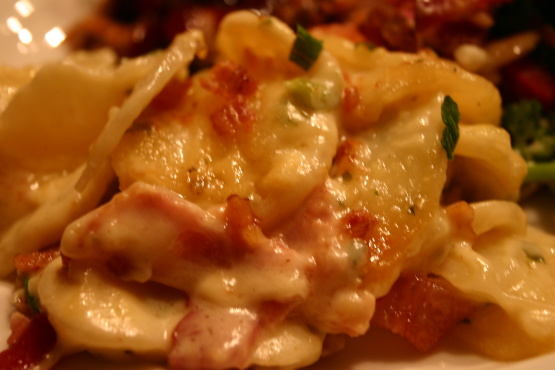 Yummy!! This is a nice way to jazz up a box of potatoes au gratin. From the Betty Crocker website.

I made this recipe for Thanksgiving and got rave reviews. Everyone thought I had made it from scratch! Very easy to do. Add a little extra time to the bake though, it took about 15 minutes longer to get the potatoes nice and tender. This recipe is going in my Thanksgiving folder for good!
Heat oven to 375°F In 2-quart casserole, mix potatoes, sauce mix, boiling water, half-and-half and butter. Stir in remaining potato ingredients.Bake uncovered 35 minutes or until liquid is reduced.
In the meantime, combine bread crumbs and butter in a small bowl; sprinkle mixture over potatoes. Bake 8 minutes longer or until topping is golden.
Sprinkle with parsley to garnish.
***Variation: Instead of a breadcrumb topping in step 2, sprinkle some reserved bacon, cheddar and green onions on top!