Lo-bak Go - Chinese Radish Cakes
Shasha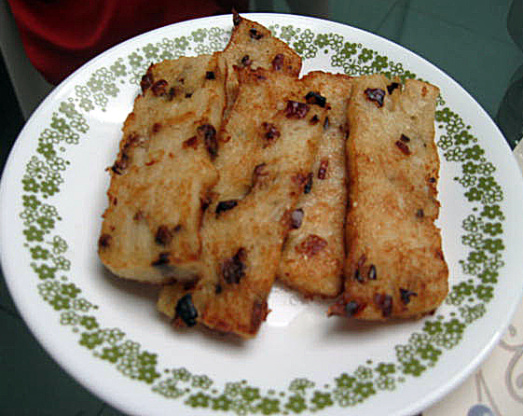 This is my favourite Chinese Dim-Sum. It is a steamed cake of rice flour and grated Chinese radish (lo-bak), which is then cut into slices and pan fried. Not unlike scrapple, in some ways, although less meaty. It's delicious with lots of hot sauce. Lo-bak looks very similar to daikon; it is just a little bit milder in flavour. I suspect daikon would work okay if need be. You don't have to use both the shrimp and the shiitake; one or the other would be alright.
1⁄2 cup dried shrimp

5

dried shiitake mushrooms

2

cups boiling water

3

lbs Chinese radishes (lo bak)
1⁄2 lb rice flour

2

teaspoons salt

2

cups chicken stock
Soak the shrimp and mushrooms in the boiling water.
Peel and grate the radish directly into the chicken stock; Simmer for about 15 minutes.
Drain the chicken stock from the lo bok, and the soaking water from the shrimp and mushrooms, and reserve them both.
Mince the shrimp and the shiitake.
Add the combined stock and soaking water slowly to the rice flour, stirring constantly, to make a batter of medium viscosity.
Season with salt, if required, and a little pepper.
Mix the lo bak, shrimp and shiitake into it, and put it in a large sauce pan.
Cook, stirring constantly, until the mixture begins to thicken.
Pour it into an oiled 10" square cake pan, and cover it tightly in foil.
Bake it at 300 deg in a water bath until thoroughly set- 1 1/2 to 2 hours?
Let cool.
Slice into 1/2" slices and fry until nicely browned on both sides in a lighlty oiled pan.