Djansing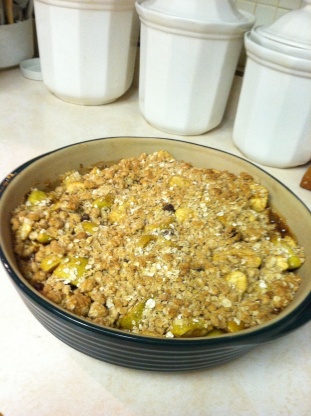 This recipe is from Lizzy a fabulous cook in the Northern Canadian farming community who has the most amazing crab apple trees!

This is soo freaking good! Too sweet or not! I'm not very fond of crab apples but since my little girl found a raided an apple tree on her way from school I figured I must do something with all the apples and this recipe came up! I love it!! Thank u! Only thing I did change was I used 1c. Brown sugar in place of white sugar. It's just my preference for crisps! *****
Slice the crab apples with skin on.
Add sugar and cinnamon to crab apples set aside.
Combine the 6 ingredients for crust use any depth pan you want it will just increase the cooking time.
Put your crab apples into pan with your water use the 1/2 cup water if your pan is a deep dish. Then top with your crumb topping completely.
Bake at 375 for 15 minutes then 350 for 40 minutes.
If using a glass dish bake at 350 for 15 minutes then 325 40 - 50 minutes until golden and the edges are slightly crispy.