Lizz's Easy Chicken Pot Pie
Kim M.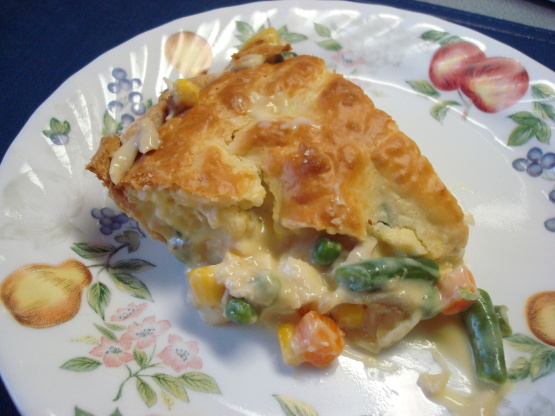 This is a variation of a recipe of a dish my friend Lizz from N.J. made often. It is a simple and delicious chicken pot pie. I added a choice of 3 different topping crusts.

This was very simple to make. I followed the recipe as written using the pie crusts. For my family it was missing some seasoning. Next time I would add garlic powder, pepper and maybe some salt. This was a nice, quick easy, weeknight meal. I actually made this in the morning and then hubby popped them in the oven when he got home from work.
Bottom

1

(9 inch) frozen pie crusts, for bottom (optional)

Filling

2

(10 3/4 ounce) cans reduced-fat cream of chicken soup

1

cup 2% low-fat milk

1

(15 ounce) can Veg-All, drained (mixed vegetables)

1 -2

cup cooked chicken, cubed (leftovers or 1 large can chunk chicken, drained)
1⁄2 teaspoon ground sage
salt and black pepper, to taste

Bisquick Topping

1⁄2 cup 2% low-fat milk
1⁄4 cup egg substitute

1

cup Bisquick

Twisted Topping

1

(11 ounce) package refrigerated breadstick dough (optional)

Pie crust topping

1

(9 inch) deep dish pie shells (optional)
Preheat oven to 375°F In medium bowl, mix filling ingredients and then pour into bottom pie crust (if using). Select your topping, and bake for 30-40 minutes.
BISQUICK TOPPING: Mix milk, egg, and bisquick in a small bowl. Spread out over chicken mixture. (or the second pie crust if prefered).
TWISTED TOPPING: Unroll and separate the breadsticks. Place 6 of the breadsticks across the pie plate over the sausage mixture, twisting each one and spacing evenly. Place the remaining 6 breadsticks over the first in the opposite direction, creating a lattice pattern. Trim ends if needed.
TWO CRUST TOPPING: Place 2nd pie crust over top of filling, tucking the edges under the bottom crust and flute them together. Cut a few slits in the top to allow steam to escape.