Liz's Spicy Chicken and Green Chile Soup
tamalita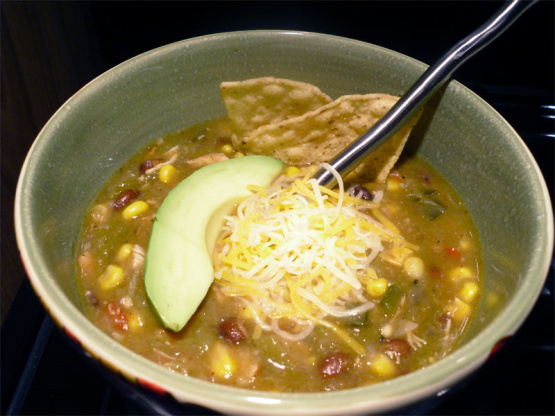 This is a delicious variation of tortilla soup that I got from my wonderful sister, Liz (and then slighly modified)! The secret is the green enchilada sauce - it makes for a nice hot and spicy soup! Enjoy!
Rub chicken fillets with fajita seasoning mix.
Place chicken in skillet and brown each side.
Remove from skillet and allow to cool.
Cut into bite-size pieces.
Add 1 Tbs olive oil to skillet and saute onions, garlic, and green chiles.
Move to large saucepan.
Add enchilada sauce, chicken broth, Mexi-Corn, and chicken.
Salt and pepper to taste.
Bring to a boil, then turn down to simmer.
Allow to simmer for 1/2 hour to 1 hour.
Top with cheese, crumpled tortilla chips, and sliced avocado.