Amy020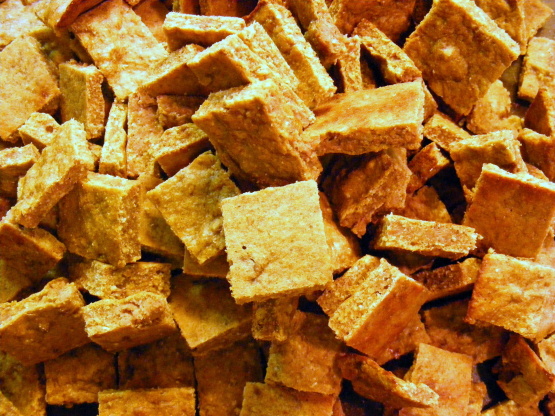 I use this recipe as bait for my show dogs and as a treat for my obedience dogs. I can just throw it into my tack box and go. I freeze it in batches of 10-12 1x4 sticks. I have only met about 3 dogs that did not like this treat.

Top Review by KeyWee
Woof!! My dogs loved this stuff! It was easy to make (a little sloppy) and not for the faint of stomach - but if you love your dog(s) like I do, you're up for the challenge. This cuts nicely into squares of your choice, which was great for me as one of my dogs is 4#, one is 9#, and the other is 100#! A great way to use up the liver I had in my freezer - I used pork & lamb. So, Goldragon: Toby, Sindee & Keywee thank you so much for this recipe!
1 -1 1⁄2 lb liver (any kind will work, but I use beef)

2

boxes Jiffy cornbread mix

1

tablespoon garlic powder
Put liver, juice and all, in food processor.
Puree well.
Pour into bowl and add other ingredients.
Spread out into 2 greased cookie sheets, making sure it has no thin spots.
Bake at 400 degrees for about 20 minutes or until very brown on top.
Cool and cut into desired size.
This recipe freezes well and will not spoil if unrefrigerated for 3-4 days.