Littlemafia's Parmesan Potatoes
Nif_H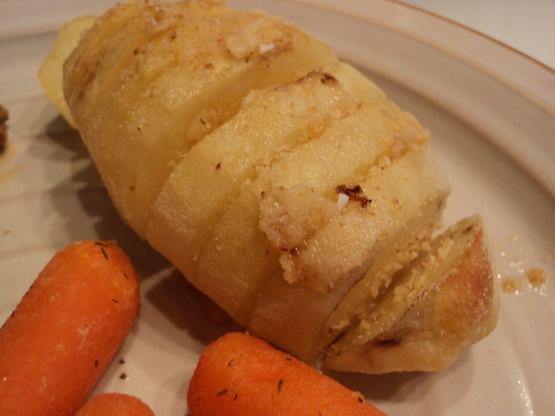 Nice presentation for a festive dinner.

I greatly reduced the yield for this, making about 8 small potatoes. FYI to those of us who still buy 4 sticks of butter in a pound box... 1 stick is about 115g. I cut off a 1 oz piece and it was 30g. I didn't think this would be much butter... and certainly 1/4 cube seemed not much butter for the whole recipe but in my case I microwaved them for a while to speed up cooking time and the butter was plenty. I had to be out in the afternoon and then needed the meal to come along quickly when I got home. Microwaving them until mostly done worked perfectly. I noticed a comment about Hasselback potatoes so I looked that recipe up. It is very similar, just a higher fat version of this. The recipe I found had some good advice. Use chop sticks (disposable ones) laying on each side of the potato perpendicular to your knife as you cut into the potato and it will keep you from cutting all the way through. (did this and it worked great). Rinse the cut potato in water to get rid of extra starch and it will fan out better. (Forgot to do this! but I noticed that the ones that I left with peelings, fanned out better.) Made for "I Recommend Tag"
Slice potatoes at 5 mm intervals through the center.Don't cut all the way through.
Place potatoes cut side up in a greased baking pan. Sprinkle with salt and brush with melted butter.
Bake at 220 C for about 45 min or till the potatoes are tender,brushing with butter.
Sprinkle with parmesan and breadcrumbs and bake for another 10 minute.