Little Warm Chocolate Caramel Cakes
WiGal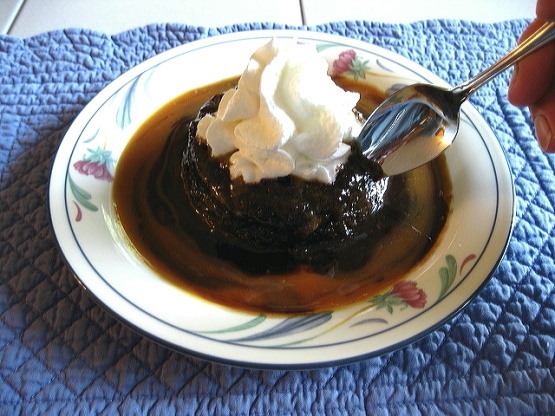 Warm caramel sauce and a little chocolate syrup spooned into a ramekin's bottom results in a cake with an irresistibly gooey surprise. Plan ahead, because you need to freeze the ramikins for about 70 minutes before baking. Adapted from Country Living magazine.

Top Review by WiGal
A nice dessert! We think the caramel and chocolate syrup needs to be decreased-possibly half as much and even wonder about the sugar amount in the cake portion. The sauce dominates the brownie cake so it is hard to tell. This does need to be in the freezer for a total of 70 minutes before baking. Made for PRMR. Thanks Sharon123.
Preheat oven to 400*F.
Generously coat six 6-ounce ramekins with softened butter. Chill in the freezer for about 10 minutes, and brush with a second coat of butter. Pour 3 tablespoons caramel sauce into the bottom of each ramekin. Now put 1 tbls. of the chocolate syrup on top of the caramel sauce and transfer to the freezer for 1 hour.
Whisk the cake flour, cocoa, baking soda, sugar, and salt together in a large bowl and set aside. Stir the coffee, oil, vanilla, and vinegar together and whisk into the flour mixture just until smooth.
Fill each ramekin with 1/3 cup of batter.
Bake at 400 degrees F until the cake is set and a toothpick inserted in the center comes out clean, and the caramel has bubbled up the sides, about 20 minutes. Enjoy!