Little Vanilla Pound Cake for 2
gailanng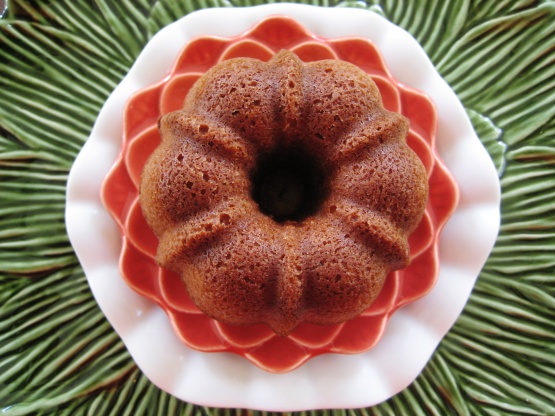 This is my favorite little vanilla pound cake. It's perfect for 2 people. It makes a great base for strawberry shortcakes! Top it with whipped cream and drizzle with chocolate... yum. I have done a bunch of diferent things with this perfect little cake. It has a wonderful texture and melts in your mouth. You can easily double this but don't double the baking soda, just leave it at 1/8 teaspoon.

These little cakes have wonderful characteristics...a soft and tender crumb with a very crunchy exterior. The beauty is that there is really no need for an electric mixer. I mixed the batter by hand and had them in the oven in no time. My husband expressed repeatedly about how fresh these tasted compared store-bought. The pared down recipe is also a bonus. It's a toss up between this and Realtor's recipe #369159. The one thing I am sure is that the most mediocre dinner shines when the finality is a delicious dessert.
Preheat oven to 350. Grease and flour pan very well. I designed this to go in a petit loaf pan that measures about 5x3x2 but you can use 2 mini Bundts, 4 cupcake cups, 2 jumbo muffin cups or whatever small pan you like. When doubled it works nicely with the 6 cup Bundt pan, a 5 inch springform, 4 mini Bundts or a 7x4x3 loaf pan.
Whisk together flour and sugar in small mixing bowl.
In another small bowl, whisk together sour cream and baking soda. Add egg and vanilla ex, gently whisk to combine.
Add the butter and 1/2 of the sour cream mixture to the flour mixture and mix with electric mixer until moistened. Beat on low for about 45 seconds.
Add remaining sour cream mixture and beat on medium until well blended, 30 seconds. Don't over mix or you'll ruin the texture.
Pour into prepared pan and bake until browned well and toothpick inserted in center comes out clean, about 25-30 minutes for the petit loaf pan. When doubled bake 40 minutes in the small loaf pan. Baking times vary slightly depending on which pan you use. The important thing is that the cake is browned and toothpick comes out clean when inserted in center.
Cool in pan 10 minutes on rack. Remove from pan and cool completely.