Food.com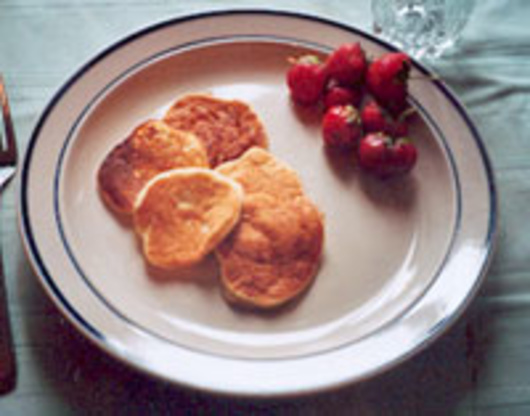 Tiny light lemony pancakes -- simply adorable! And they taste good, too. From "Great Good Food".

Excellent! Light and tender little lemony bursts of flavor. I only wish I had doubled or even tripled the recipe. Just wonderful - and very accurate, clear instructions too.
Combine flour, baking powder, sugar, and salt in large bowl.
Add milk, club soda, egg yolk, lemon zest, vanilla and oil.
Beat well.
In a separate bowl, beat egg whites with electric mixer until stiff peaks form.
Gently fold egg whites into batter.
Spray a large nonstick frying pan with cooking spray.
Over medium-high heat, drop batter by tablespoonfuls to make 2-inch pancakes.
Cook until golden brown on both sides, turning once.
(Be careful not to let them burn-- doesn't take long to cook!).