Little Jack Horner's Christmas Chicken, Fruit and Stuffing Pie!
French Tart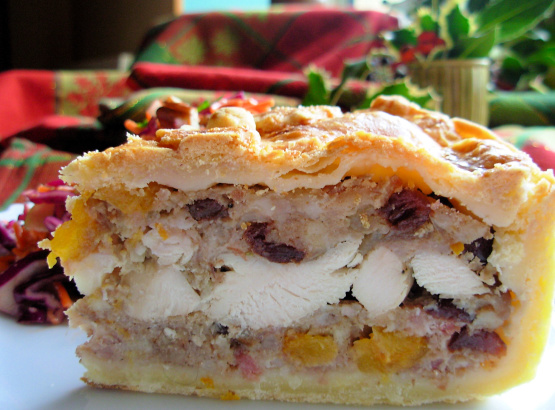 This beautiful layered pie combines all my favourite Christmas flavours - chestnuts, cranberries, dried apricots, chicken, pork sausagemeat and bacon - all encased in a crispy and crumbly pastry case; it is a firm favourite in our house EVERY year! Not only that, but this pie is actually better if made ahead of time - it can be eaten warm or cold and is excellent for buffets and light suppers. It also freezes very well, once cooked. The filling is very similar to an English Pork Pie, a fruity stuffing mixture layered with chicken fillets. Although it is essentially a pie for the winter festive season - I see no reason why it cannot be made all year around - I often make it to take on picnics in the spring and summer. You can adjust the filling to suit your own tastes and requirements, but I think that the chicken, bacon, apricots, cranberries and chestnuts are essential for the delicious and unique flavour this pie has! N.B. Please try to use high meat content sausages or sausagemeat - it makes all the difference to the taste, plus cheaper sausages have lots of fat and bread added! Where the name came from - an old Nursery Rhyme: "Little Jack Horner sat in a corner, eating his Christmas Pie - he put in his thumb and pulled out a plumb, and said what a good boy am I"!!! I JUST had to name it after him, even though there are NO plumbs in this pie! (The original recipe was in a 2005 BBC Good Food magazine; this is my much amended version of that original recipe.)

If I could give this more than 5 stars I would. It is a fabulous special pie; the combination of flavours is superb. I made it for Christmas eve supper and it was a total hit with the family. It was so good everyone thought we should make it a tradition to have for our family Christmas eve get together. The only thing I had to do different from the recipe was to use water chestnuts rather than regular chestnuts which were not available, even so they gave it a nice crunch. I also may have made the crust just a little too short but it did hold together and cut very nicely; pretty as FT's picture. Thanks sooo much for this wonderful wonderful recipe which I know will be made for many future Christmas Eves, maybe even for other occasions too!!
1

tablespoon olive oil

1

onion, peeled and finely chopped

4

slices smoked streaky bacon, chopped or, 50 g smoked lardons

500

g pork sausage or 500 g skinned pork sausages

1

lemon, zest of, grated

1

orange, zest of, grated

100

g fresh brown breadcrumbs

75

g ready-to-eat dried apricots, chopped

50

g fresh cooked peeled chestnuts or 50 g canned chestnuts or 50 g vacuum-packed chestnuts, chopped

2

teaspoons chopped fresh thyme or 1 teaspoon dried thyme

100

g fresh cranberries or 100 g frozen cranberries
salt and pepper

500

g ready-made shortcrust pastry or 500 g home-made shortcrust pastry
beaten egg, to glaze
Heat the oven to 170C/350F/Gas 5.
Grease and line a 20-23cm (9") springform or deep loose-based tart tin with baking parchment or greaseproof paper.
Heat 1/2 tbsp oil in a frying pan, then add the onion and the bacon, fry for 5 minutes until the onion is softened and the bacon browned. Cool slightly.
Tip the sausagemeat, lemon and orange zest, breadcrumbs, apricots, chestnuts and thyme into a bowl and mix together.
Add the onion, bacon and cranberries, then mix everything together with your hands, adding plenty of pepper and a little salt to taste.
Cut each chicken breast into three or four fillets lengthwise and season them all over with salt and pepper. Heat the remaining oil in the frying pan, and fry the chicken fillets quickly until browned, for about 6-8 minutes.
Roll out two-thirds of the pastry to line the springform or loose-based tart tin; make sure the pastry comes right up the sides of the tin, and extends over the edge of the tin a little bit. Press in half the sausage mixture and spread to level. Then add the chicken pieces in one even layer and cover with the rest of the sausage mixture. Press down lightly.
Roll out the remaining pastry, leaving a little pastry for the decorative shapes. Brush the edges of the pastry base with beaten egg and cover with the pastry lid. Pinch and crimp the edges to seal, then trim.
Brush the top of the pie with egg, then roll out the excess pastry trimmings to make holly leaf shapes and berries. Decorate the pie with the shapes and brush again with egg.
Set the tin on a baking sheet and bake for 1 hour to 1 hour 15 minutes, then cool in the tin for 15 minutes. Remove the pie from the tin, and leave to cool slightly. If you wish, you can place the pie back into the oven at this stage if you would like a darker crust - just sit it on a greased baking sheet and bake for a further 10 to 15 minutes.
Serve warm or cold with a winter salads, chutneys, relishes and pickles.
Can be frozen once cooked for up to 1 month. Defrost in the fridge overnight.