Boomette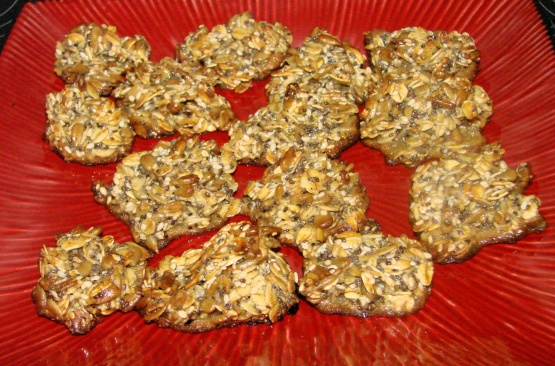 Yummy, healthy holiday cookies featuring three types of seeds, oats and just a little butter. I really liked these and think they make a great addition to the holiday cookie platter. I think adding some cinnamon or other warm winter spices would make these even more seasonal.

Made this for Little Miss (DD) and her friend who had a play together. Her friend is allergic to Lactose, Gluten and Nuts. Little Miss is allergic to Lactose. So this recipe really suited us. Little Miss said they were very yummy! I didn't get to taste one because Little Miss wouldn't share and I don't eat eggs. Will be making them again using vegan egg because they are healthy for Little Miss and I could try one. I wasn't sure if they would hold together after they have been in the oven but I allowed them to cool on the rack and they easily stayed together. Thanks so much for posting your recipe Lalaloula
In a big bowl combine all the seeds and the oats. Add vanilla (or other spices), salt, honey, butter and the egg.
Mix well. Knead into a dough if not mixed well enough already.
Using two teaspoons form dough into small dumpling shaped cookies (see pic).
Place onto paper-lined baking sheet and bake at 180°C/390°F for about 10-15 minutes. The cookies should be browned on top.