dizzydi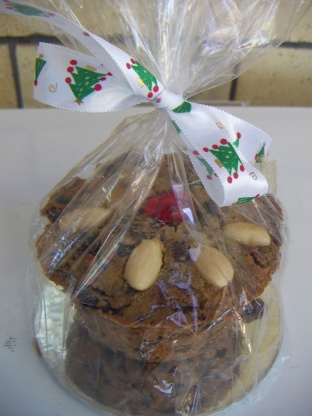 A delicious single serve fruit & nut cake treat, perfect for gatherings or to just have on hand for a nice cuppa. They keep for a long time in an air tight container and also make a lovely gift on a nice plate done up with cellophane and ribbon. Also nice to decorate the tops with a cherry or nuts.

Even though these kinds of tasties remind me of the end-of-year holidays, I never tire of making & enjoying them almost anytime of year! Fortunately I still had a small amount of the cherries left from the holidays (although they were green!), & that worked out just fine! Made these for my other half to take to & share with a group meeting he attends weekly, but held back 6 of them just to enjoy here at home! Thanks for sharing this keeper of a recipe ~ Will be making them again later in the year! [Made & reviewed in Zaar Chef Alphabet Soup tag]
Soak fruit in brandy overnight.
Beat butter & sugar till combined. Add eggs one at a time beating well after each. Transfer to a large bowl and stir in the soaked fruit alternately with the sifted flour, mixed spice and chopped nuts. Spoon into non stick muffin tins and smooth over surface.
Decorate with extra glace cherrie & nuts at this stage if you wish.
Bake in 140 degrees celsius oven for 55 minutes, checking with a skewer to see if baked through.
Allow to cool in pans.