Little Debbie Oatmeal Cream Pie
CandyTX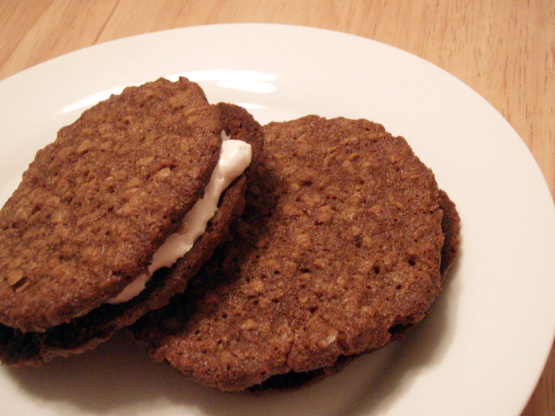 I found this on the web, and since they're the absolute favorite of my grandson, I made them for him. We couldn't tell the difference! The only thing is-these are a lot fresher!

Dangerously wonderful. Not exact, but so darn close you won't be able to leave them alone! Tips: 1. make on parchment paper 2. make smaller than the TBSP recommended a TSP woud be much better, as the tbsp spreads to about 4in. 3. let cool on cookie sheet completely, they'll be easier to handle. 4. Double the filling. 5. Be very careful with your molasses, if you go overboard, it wil be overpowering. You could probably get away with leaving it out especially if using DARK brown sugar. YUM!
In large bowl, cream margarine, sugars, molasses, vanilla, and eggs.
Combine flour, salt, baking soda, and cinnamon.
Add to the creamed mixture; mix in the oats.
Drop dough by TBSP on ungreased sheets.
Bake at 350°F.
Bake for 10-12 minutes,or until just starting to brown around the edges.
They will look moist; don't overcook.
While the cookies bake prepare the filling.
In small bowl, dissolve the salt in the hot water.
Allow this to cool.
Combine marshmallow cream, shortening, powdered sugar, and vanilla in med bowl; mix on hi until fluffy.
Add the cooled salt water and mix well.
Spread filling on flat side of one cookie, press 2nd cookie on top.