Lite Scrambled Eggs With Smoked Salmon
ImPat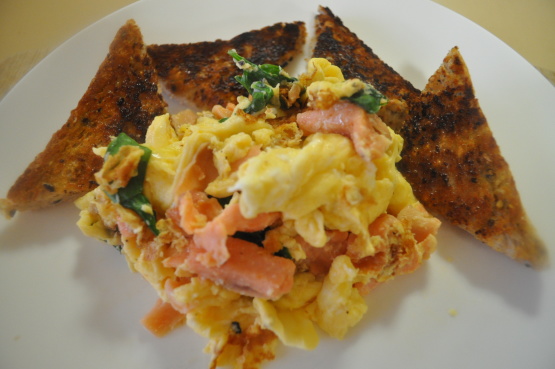 This is my lighter version of scrambled eggs with smoked salmon.

Top Review by ImPat
I really had to restrain myself to eat this nice and slowly instead of gobbling it all down. I used to whole eggs (for 1 person - me) and followed through but I only had dry dill to add as it was pouring rain could not get out to herb garden to get the chives and then when I was eating I realized I forgot to put them in - put down to early morning brain dead. Thank you Mysterygirl for a great breakfast, made for All You Can Cook Buffet tag game.
In a small bowl, beat eggs, milk and seasonings.
Spray a skillet with non-stick spray or use a non-stick skillet. Heat over medium heat.
When hot, add egg mixture.
Cook eggs, stirring occasionally until slightly set, about 2-3 minutes.
Stir in salmon and spinach until salmon is heated through and the spinach has wilted.
Serve over toasted bread.
Sprinkle with additional fresh chives and dill.