Lite Salmon & Pasta Casserole
GaylaJ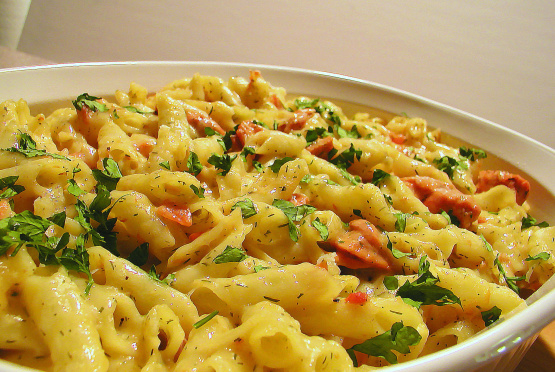 I Like to spice this up a bit more with garlic and jalapenos etc but it is very tasty the way it is - this will stretch to 6 servings but I think 4 is realistic. Surprisingly low in fat and calories. Good budget stretcher

Bergy, thank you for posting this recipe! Finally I have found a perfect canned fish/pasta bake that I LOVE! This is so good! I had to make a couple of subs, firstly I used cream of chicken and corn soup instead of just chicken as it was all I had. I used the regular type as I can't seem to get low-fat here. Also I don't like to have too much pasta so I substituted half the pasta with broccoli which I cooked with the pasta for the last minute of boiling time. This was great as it made it a one-dish meal too. I think this recipe would work great with tuna too and can't wait to try it again. I totally recommend people try this. Thanks!!
Cook pasta according to directions or try recipe#30358 Perfect Pasta with no watching& no sweating In a large saucepan combine soup, milk, Swiss cheese, dill, lemon zest, mustard powder& black pepper Cook over medium heat until the cheese has melted.
Stir in the salmon and cooked pasta shells.
Spray a 2 quart casserole lightly with veggie oil and pour in the casserole ingredients Heat oven to 350F.
Sprinkle with parmesan& parsley.
Bake covered with foil for apprx 20 minutes remove foil and continue baking for 5 minutes more.