Lite Pumpkin Pie (from Libby's)
Bec6206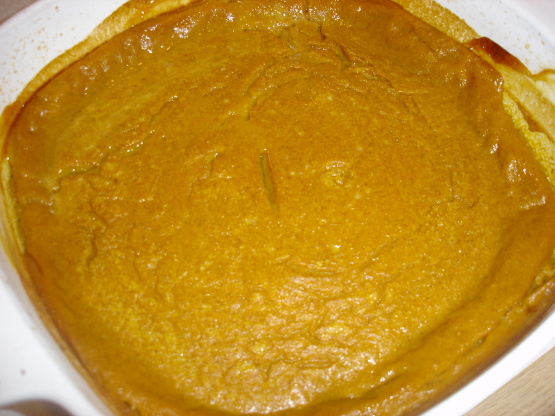 I really like this recipe, it's always been great. it's also easy. I got this from Libby's Very best baking site at www.verybestbaking.com

I'm sorry, but I really had problems with this pie. I think it was the cornstarch, which I normally don't see in PP recipes. My pie did not solidify, even after I baked it an extra 30 minutes than directed. I cooled it and tried to cut it this morning and it just was a mess. It tasted fine, but was just not appealing enough to serve to guests. I put it in the freezer for a later day and started over. I ended up borrowing a can of pumpkin from a neighbor and making the regular Libby's recipe.
MIX sugar, cornstarch, cinnamon, ginger and salt in small bowl.
Beat egg whites lightly in large bowl.
Stir in pumpkin and sugar mixture.
Gradually stir in evaporated milk.
POUR into pie shell.
BAKE in preheated 425°F oven for 15 minutes.
Reduce temperature to 350° F.
;bake for additional 30 to 40 minutes or until knife inserted near center comes out clean.
Cool on wire rack for 2 hours.
Serve immediately or refrigerate.
(Do not freeze as this will cause filling to separate from crust.).