Lite and Easy Spring Vegetable Soup
PaulaG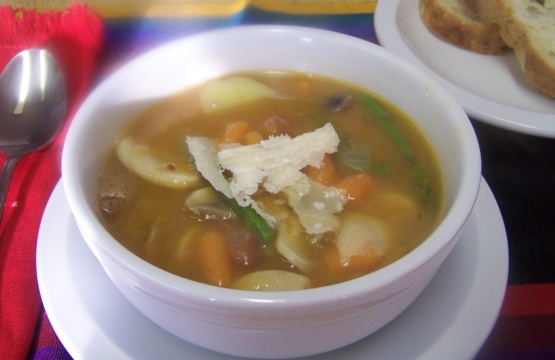 This is a clear veggie soup loaded with vitamins. It is ready in 35 minutes including prep time. It is vegetarian friendly. Recipe originated in Family Circle magazine tweaked by Bergy. Low in fat and calories. I have said 6 servings but if this is your main meal it will serve 4.

Easy and delicious! I wouldn't call the parm optional, though. I used red potatoes that were larger than the original called for and gave the roots some extra cooking time before adding the beans, etc. Only two of us for dinner, so I'll have a few healthy lunches to take to work from the leftovers.
Lightly spray a large saucepan with oil.
Over medium heat saute the onion, garlic and mushrooms, stirring for apprx 3 minutes.
Add Broth,potatoes, carrots and salt, bring to a boil, cover and simmer 5 minutes.
Add Thyme,asparagus,beans and chili flakes.
Cover and cook a further 5 minutes or until the vegetables are cooked.
To serve spoon into bowls and add some shaved parmesan cheese on top if desired.