Parsley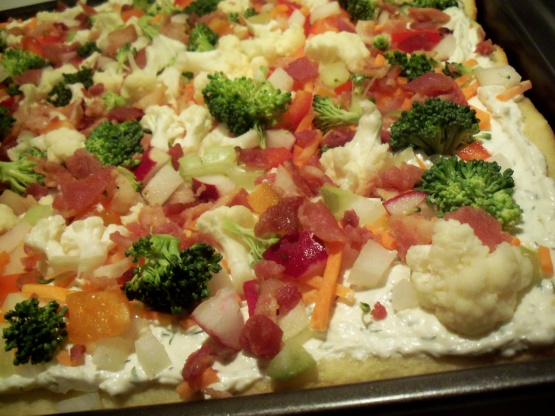 This is my sisters recipe. She is not allowed to come to gatherings unless she brings it with her.<><

I always love these veggie pizzas. This one is especially nice for when you don't have or don't care to use the powdered ranch dressing mix. It's the perfect party snack food. Easy to make, colorful and fairly healthy. I used reduced-fat dairy products and crescent rolls. I subbed red pepper for green pepper, but otherwise made this as written. Thanx!
Spread crescent rolls on a cookie sheet.Cook at 375* for 11-13 minutes or until golden brown.
Set aside and let cool.
Mix next 5 ingredients until creamy and spread over the cooled crust.
Top with a layer of each veggie.
Keep refrigerated.