Lisa's Sour Cream Chicken Enchiladas
lazyme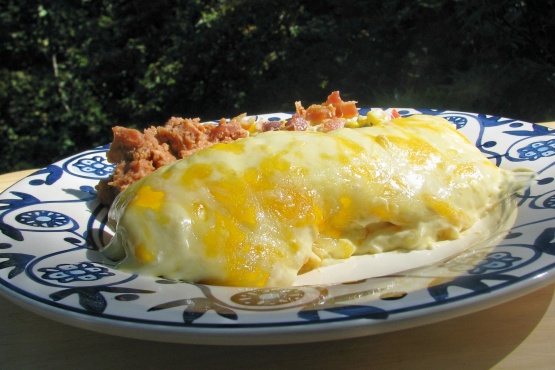 We love sour cream chicken enchiladas so I came up with this recipe and added the cream cheese to make them extra special. The recipe uses flour tortillas but I am sure you could use corn tortillas if that is what you prefer. I cook the chicken breasts by baking or boiling them. I did not add the chicken cook time in the recipe total cook time because I usually either use chicken left over from another meal or prepare in advance and freeze. I usually serve this with mexican rice and quacamole salad with tortilla chips. I hope you enjoy them.

Top Review by tti01
these are absolutely incredibly delicious! my hubby, who rates my cooking on a scale of 1 to 10, and usually gives me around an 8, gives these a solid 9! if you knew my hubby, who is so quiet and unopinionated about everything, you would realize what a 9 really means! lol! my hubby actually got excited about dinner when i told him i was making these. heck, he's a virgo and never gets emotional or excited about anything! lol!!!!
Preheat oven to 350 degrees.
Mix together cream cheese, green chilies and chicken.
Place equal spoonfuls of chicken mixture in the middle of each tortilla.
Roll up tortillas and place in 13 X 9 inch.
Mix and heat until smooth, soup, sour cream and salt.
Pour soup mixture evenly over enchiladas.
Sprinkle cheddar cheese on top.
Bake for 20 minutes.