Lisa's Homemade Chocolate Covered Peanuts
flower7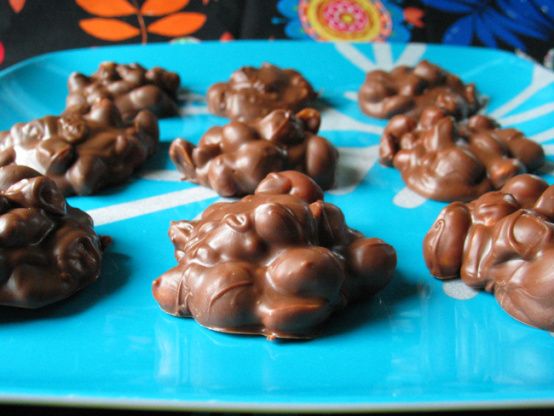 This is so easy and so impressive. The taste is fantastic. The texture is smooth and creamy. The flavor depends on the quality of chips you buy but the kids enjoy the store brand (cheap ones) the best They make great teacher gifts, if you package them up nicely.
The chocolate covered almods is SUPER YUMMY? hope you guys tried it?
340.19

g package semi-sweet chocolate chips

2

(680.38 g) package butterscotch chips

340.19-453.59

g salted peanuts, no skin
This is a two to one for the chocolate covering.
Melt the chocolate in double boiler with the butterscotch chips Or you can use a large micro safe bowl (50% power for 30 secs) at a time till melted.
Pour in the peanuts.
Stir till coated.
Drop by tablespoon full on to parchment paper.
Cool till hard.
Store in airtight container at room temperature.
Mine never lasted longer than a week but I don't recommend that you serve them much after a week of shelving.