Lisa's Fruit Salad With Caramelized Pretzel Topping
diner524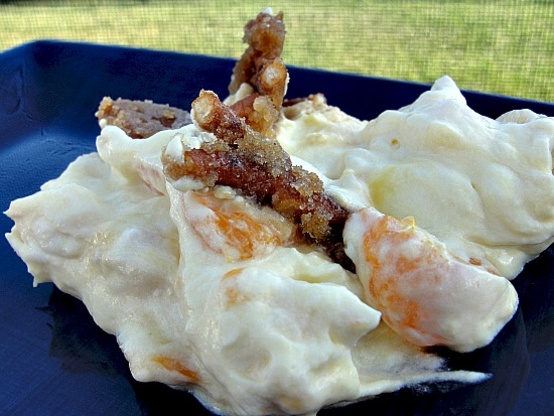 This recipe is from Lisa, a wonderful girl, who is my beautician in Wisconsin. I call her girl b/c she used to be a student of mine about 30 years ago. Oh, dear how time passes by. Now she is a model parent and wife who could also be a model in a magazine. I am guessing at the amount of pretzels. But what a great way to use up leftover pretzels! This recipe does not include the chilling of the fruit salad. Break up the pretzels inside a bag.
What a wonderful fruit salad, the family loved the new fruit salad!!! Everyone loved the sweet and salty flavors going on in the salad. I made the recipe as written except that I only used one can of the oranges and I added two sliced bananas. This makes a very large bowl of fruit salad, so next time I would only make 1/2 of the recipe. DD was only too happy to take a big bowl home with her. Thanks for sharing the recipe. Made for PRMR Tag Game.
Preheat oven to 450 degrees.
Line a jelly roll pan with foil.
Break up pretzels on pan.
Melt butter in microwave, add brown sugar, stir together, and dump onto pretzels.
Stir until well coated.
Bake for 5 minutes.
Cool and break apart pretzels.
For the fruit salad put into large bowl: mix pudding and buttermilk together.
Fold in the whipped cream, crushed pineapple, and mandarin orange pulp.
Cover top of salad with caramelized pretzel topping right before serving.