teresas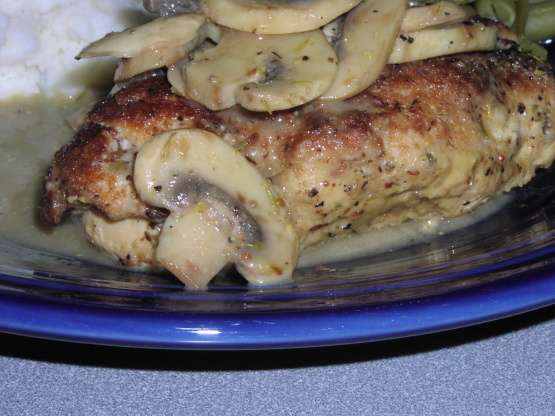 A breaded chicken with mushrooms and a sauce to die for. WW friendly - 5.5 pts

Outstanding flavor and easy preparation. This is a make again and again recipe. I only made with 2 chicken breast (just 2 of us) but kept the sauce amount the same. Served the extra sauce over mashed potatoes. Had green beans for a veggie. DH said this was worthy of being called "comfort" food. Thanks, Gallopin Gael for posting.
Dredge chicken in bread crumbs.
Heat oil in a large nonstick skillet over medium heat. Add chicken and cook 3 minutes on each side or until browned.
Add wine and next 4 ingredients; cover; reduce heat and simmer 15 minutes or until chicken is done.
With a slotted spoon, remove chicken and mushrooms and place on a serving platter. Stir in mustard and juice into wine mixture and cook 1 minute. Spoon sauce over chicken.