Annacia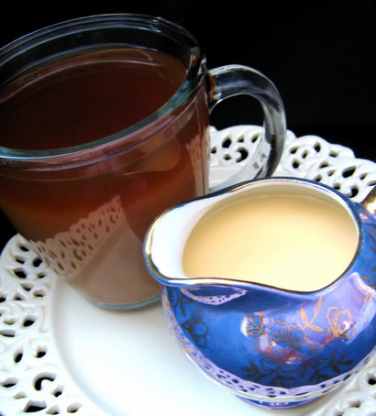 I made a smaller amount because I had an open can of the condensed milk that had to be used up. I made Vanilla Caramel and it's great. Super easy but a full recipe will make a lot! If you don't use creamer very often I suggest that you trim back on the amount. The small creamer pitcher in the pic will last me for about a week :D. Thanks for this one Sam.
Measure all ingredients into 32 oz container (with a cover), seal container and shake vigorously. (Store in fridge up to 2 weeks).
Flavor ideas: Chocolate Almond use: 1-Tbsp cocoa, 1-tsp almond extract. Vanilla: use 2-tsp vanilla extract. Cappuccino: use 1-tsp almond extract, 1/2 tsp orange extract. Strudel: use 1 T. cinnamon, 1 tsp vanilla extract, 1 ts almond extract. Chocolate Raspberry: use 2 tsp cocoa powder, 2 T. raspberry syrup.