Linzer Schnitten (Linzer Cake)
berry271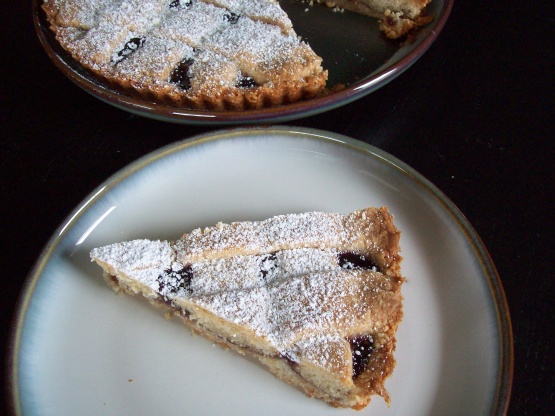 A traditional Austrian, absolutely delicious and so easy to make cake. Classic :)!

Yum! I've made Linzer Hearts before, but never a Torte. Looks very impressive, and reminds me of something that would have been served with Kaffee when I lived in Deutschland. It is a bit more involved than other dessert recipes might be, but not as complicated as I thought. An interesting crust, but it turned out very well. I did bake it in a tart pan and not a cake pan. That made it very easy to serve. I also had a little leftover dough that I used to make a little Nutella "Pop Tart" which was also very good.
Crust: Knead butter, sugar, flour, egg, breadcrumbs, cinnamon and hazelnuts to a soft dough, form to a ball and let cool in the fridge for about 20 minutes.
Mix jam with rum.
Butter a cake pan and split dough in halves.
Use rolling pin to flatten dough.
Cover cake pan with one half of dough and coat with jam-rum mixture.
Cut other half of dough in half inch wide stripes and arrange "lattice-like" on the jam rum mixture.
Bake at 175°C until golden brown (45minutes).
Sprinkle with powdered sugar.