Linky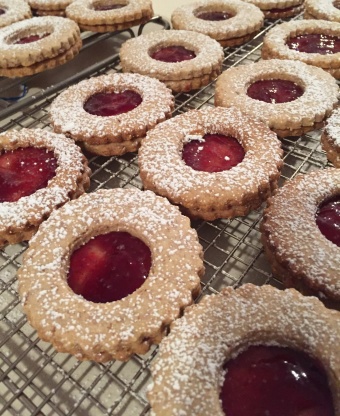 In December of 1979, Family Circle magazine published an article on White House cookies. There was a German chef at one time who made a variety of German/Austrian cookies. My pages are falling apart, so I thought I better start to record them here! This recipe is similar to others, but has lots more nuts.

Thank you, Linky1! I have the pages for this recipe, which I tore out of the magazine so many years ago. For the last so many months, I've been trying to find online, the magazine it was in. It turns out I was right the first time: Family Circle, December 1979. I had also collected from that issue, a collection of international cookie recipes. I have the pages in storage somewhere, but I wanted the magazine again. In future, I will keep the magazines! Anyway, this is the first and only Linzer Cookie recipe I've ever cared to make. Just reading the ingredients and oggling over the picture of the White House Chef, Roland Mesnier, I knew it was a winner. I haven't made it for years and hope to again soon, much to everyone's delight. Try that kourabidies recipe (greek crescent cookies) and the sesame seed cookies, too! I made them a few times years ago. Look forward to making them again, soon. Roland Mesnier by-the-way, has a website and if you subscribe (free), he sends you emails of his latest escapades.
1 1⁄2 cups butter, softened (3 sticks)

1

cup sugar

1

egg

1

egg yolk

1

teaspoon lemon rind, grated
1⁄2 teaspoon vanilla
3 1⁄3 cups almonds, very finely grated (or hazelnuts)
3 1⁄3 cups cake flour, unsifted (I use all purpose flour)

1

teaspoon baking powder
1 3⁄4 teaspoons cinnamon

12

ounces raspberry jam (I use raspberry jelly, hate those seeds)
Beat butter and sugar until light and fluffy;.
Beat in egg, egg yolk, lemon rind and vanilla.
Stir in nuts.
Stir in flour, baking powder and cinnamon, blend well.
Wrap in wax paper, chill several hours or overnight.
Using half of dough and roll out between 2 sheets of wax paper to slightly less than 1/4 inch thickness. (Even though I chill the dough, I always have to let it warm up a bit to be able to roll it.)
Remove top sheet of wax paper, cut out circles or hearts.
Carefully, place shapes on ungreased cookie sheet lined with parchment.
Save scraps for second rolling.
Repeat with other half of dough, making an equal number of cookies.
With a smaller cookie cutter (you can actually purchase Linzer cookie cookie cutters in large and small sizes) cut out the centers of half the cookies.
Use scraps to make equal numbers of solid and cut-out cookies.
Bake at 350 degree oven for 12 minutes or until edges of cookies are golden.
Remove cookie sheets from oven. Remove with wide spatula to wire racks.
Cool.
Heat raspberry jam/jelly.
Spread each solid cookie with jam, gently press cut out cookie on top of jam, making a "sandwich".
Sprinkle tops of cookies with confectioners sugar.
Add dab of jam into opening of each cookie, let set slightly.
Store in layers with wax paper between each layer.