Prep 40 mins
Cook 10 mins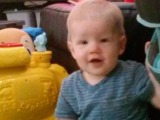 This classic Austrian cookie is typically made with almonds and a raspberry jam, but a different nut or jam will also work.
Directions
Beat margarine, oil, granulated sugar and lemon peel, if using, until light.
Beat in egg and vanilla extract until smooth.
In separate bowl, combine flour, baking powder and salt.
Add to sugar mixture, and stir by hand just until dough is soft.
Divide dough in half, shape each half into a disk, wrap in plastic and refrigerate one hour, or until well chilled.
When ready to bake, preheat oven to 350°F.
Between two pieces of wax paper, roll out one disk to ¼" thickness.
Cut out cookies using a 1½"- to 2"-round cookie cutter or glass rim.
Using a ½"-round or shaped cutter, cut centers out of half the cookies.
Place cookies 2" to 3" apart on baking sheet coated with cooking spray.
Sprinkle cookies with centers cut out with almonds; if using, pressing gently to help them adhere.
Bake 10 to 12 minutes, until lightly golden around edges.
Transfer to rack to cool.
Repeat with remaining disk, rerolling scraps once to get as many cookies as possible.
Spread solid cookies with jam, and sprinkle cut-out cookies lightly with confectioners' sugar.
Top each solid cookie with a cut-out cookie.
Notes: Freeze Em; Freezing is a good idea for these cookies, since they're so low in fat that they don't keep as long as traditional high-fat cookies.
Store in airtight containers, or freeze them if they aren't going to be eaten within a day or two.
Soft and crisp cookies shouldn't be stored together; the crisp ones will go soggy, and the soft ones will lose moisture.
Most Helpful
I found the dough wouldn't come together very easily.. It was very dry and I had to add extra oil to make it form an actual dough. After that, it was easy to roll out and bake and it all came out great after that. The cookies came out pretty crunchy, but then soften up the longer they sit with the jam in the middle. Delicious! Thanks.

I loved these cookies ! This is my favorite cookie and I was always afraid to make them. I made them for my bf for valentines day and now they are his favorite too! I added a spash of lemon juice and the lemon peel. Next time I am going to add more flour bc the dough was sticky and I was having a hard time cutting out the cookies even after the dough was chilled. very easy and delicious.