momaphet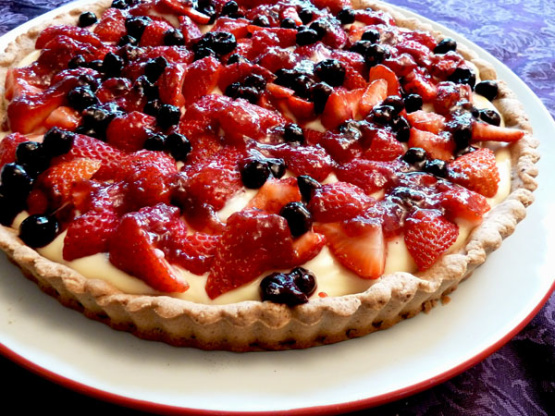 A friend brought this to one of my cookie exchange parties. I have tried the raspberry version, but she said that apricot jam could also be used, so I am including both. Great flavor and really nice presentation! A food processor comes in handy for the walnuts, or you can finely chop them.
Original review July 1, 2010 These were quite tasty though the filling was a bit on the sweet side for me. DH really liked them a lot as did my auto mechanic who I shared some with - he called me later and said AWESOME! I used a mixture of 2/3 raspberry jam and 1/3 mixed berry (ran out of the 1st). Maybe a little lemon juice would cut some of the sweetness? I used ground almonds in place of the walnuts as I had them on hand. Thanks for sharing we'll make these again! Made for ZWT 6 by one of the Unrulies Under the Influence. Updated review June 20, 2011 - I wish I could give this 5 more stars! This has become my go-to recipe for tart shells - I made a bunch of mini ones for my DD's wedding last July filling them with my version of pastry cream and topping with strawberry slices and fresh raspberries with a little raspberry sauce. I just made a big tart yesterday for Father's day I took out a little dough to make a small tart for my dairy sensitive daughter other wise used a full recipe for the shell. The most important thing is to cook them enough or the stick. Everyone loves these, the crunch cookie shell is a great contrast to the cream and fruit. Thanks again!
Preheat oven to 325°F Grease a 9x9" square pan.
Cream together butter, sugar, egg, lemon zest, salt, cinnamon, and cloves in a bowl.
Mix in flour and walnuts.
Reserve 1/4 of the dough, and pat the remaining into the prepared pan, going up about 1/2 inch on each side.
Spread chosen jam flavor in a layer over top of the dough.
Flour a flat surface.
Use reserved dough to create a lattice top for the bars by dividing it into pencil-shaped strips and rolling it on the floured surface.
Arrange in a lattice pattern across the top of the jam, criss crossing the strips and pressing the ends against the dough on the sides of the pan.
Bake 45 mintures, or until lightly browned.
Cool in the pan on a wire rack before cutting into bars.