Hanka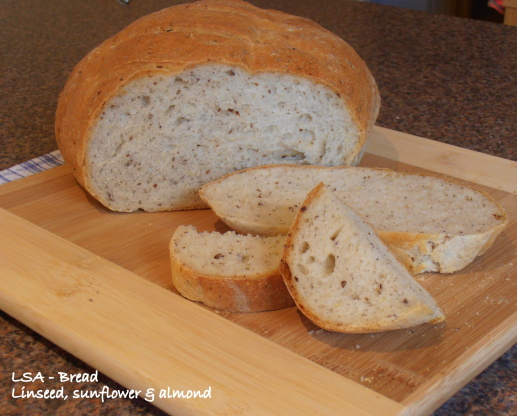 Amazing bread and so easy to do. Very little labor involved. I make the dough in bread machine on dough cycle 2h.20min. Then shape it into a loaf and bake it in the oven for more crispy crust. I use LSA mix which are grounded linseed, sunflower, almond meal. From Nu-Vit company you can find the bag (200g) in supermarkets in healthy sections. Or just the ground flax seeds would work.

Nota bene: Lindseed is flax seed.
Put all ingredients in bread machine in order as listed. Program on "dough cycle" mine is for 2h20min. Turn it on let it do the work.
When cycle is done remove dough on floured surface, punch dough few times and shape into a loaf.
Transfer to lightly sprayed tray. Cover with kitchen cloth and let it rest for 25-30 minute Meanwhile preheat the oven to 180°C.
When proofed, cut few marks with sharp knife across the top of the bread carefully not to distract the dough.
Bake 180 C for 30 -35 minute until golden brown. Let it cool on wire rack.
Don't cut the bread until is completely cooled.