Linguini With Scallops, Sun-Dried Tomatoes and Pine Nuts
Prep 10 mins
Cook 10 mins

This is from my Food and Wine One Dish Meals cookbook. My hunny is going to love this! I like it because it is just so simple. Use less red pepper flakes if you don't like spicy. Shrimp would work in place of the scallops.
Directions
Heat the oven to 350. Toast the pine nuts in the oven until golden brown, about 8 minutes.
In a large pot of boiling, salted water, cook the linguini until just done, about 12 minutes. Drain.
Meanwhile, heat 1 tablespoon of the oil in a large nonstick frying pan over moderately high heat until very hot.
Put the scallops in the pan and sear until brown on the bottom, 1-2 minutes.
Turn and sear until brown on the other side, 1-2 minutes longer. Remove the scallops and cut them into quarters.
In the same pan, heat the remaining 5 tablespoons of oil over moderate heat.
Add the tomatoes, garlic, 2 tablespoons of the parsley, red pepper flakes. Cook, stirring for 1 minute.
Toss with the pasta, scallops, pine nuts and the remaining parsley. Add salt to taste.
Most Helpful
Loads of flavor I put my scallops in the broiler with olive oil & they came out perfectly.
This flavor combination was just great, especially enjoyed the toasted pine nuts. Mine only took 4 minutes to brown in a toaster oven, not 8, so watch closely as they burn fast! I also added 1/2 cup of parmesan cheese to the recipe and used 3 Tbsp dried parsley instead of fresh. Thank you!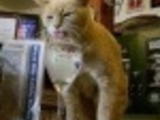 Holy Fabulous! Thank you for sharing such a flavorful and simple recipe! With my world with two small kids and carpools galore, I needed something quick. The only thing I omitted was the red pepper flakes because I knew my kids wouldn't touch it if it was too spicy. This one's a keeper! Thank you! LA :-)