Linguini and Scallops Ala Greek
Nimz1466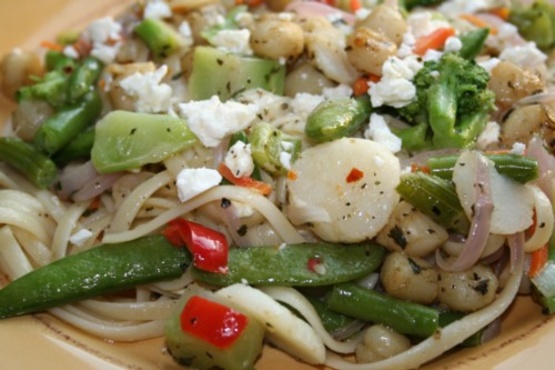 Sauted scallops in garlic and Greek seasoning served over a bed of linguini with a crusty farm bread or toasted pita, a greek salad and feta cheese. Thinly sliced veggies add color and texture to this fast made meal that tastes like you slaved when actually you had time to grab a cup of coffee or tea and enjoy it before dinner.

This is just excellent. Wonderful and full flavor. Loved the combination of flavors. I used frozen vegetables and other than adding a little red pepper flakes to spice it up a little and using 3 cloves of garlic, stayed with the recipe ingredients. I like my seafood cooked a little longer than most people, so I added the linguini and vegetables back to the pan of scallops and heated everything for about 2 minutes then served with some feta cheese and lemon juice on top. I really liked the added flavor the lemon juice gave it. Thanks so much for a really nice meal.
Heat large skillet, add olive oil, saute onions and garlic until just tender, add in frozen stir fry vegetables ( or you can dice yourself fresh veggies but this is a quick way) and saute until tender. (about 10 min).
Remove from pan into large bowl.
Add 2 Tbsp butter and scallops into heated pan with spices, cook until scallops are opaque (about 5 minutes).
Remove and add to bowl, cover to retain heat.
Meanwhile, have a pan of water to boil, add linguini and cook as per instructions until al dente (5-8 min).
Strain and put back into pot with Tbsp butter and palmful of feta cheese, stir until blended.
Pour into bowl with scallops and vegetable and mix together.
Squeeze lemon and then sprinkle more feta to taste, or serve on side.
Dinner takes less than 30 minutes from freezer to table and yet it tastes like you worked very hard( as per my family and guests).
*Prep time is longer to julliene vegetables if not using frozen veggies. I have done both ways, after work frozen veggies are handier.